Mold Technology
Six Policies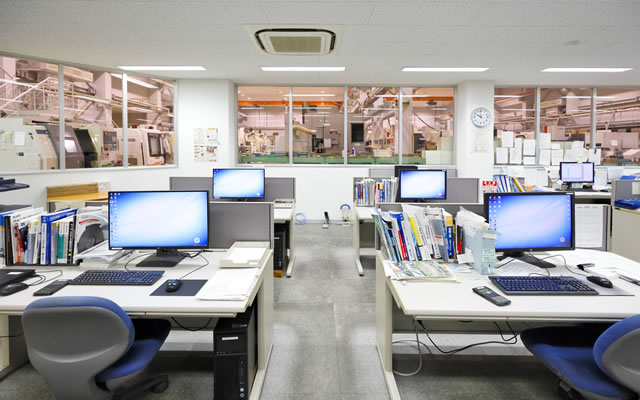 01

Advanced design

The most important part in designing that influences the quality of a mold is thorough mold history management. We have been working on designing molds for 30 years, enabling us to avoid past issues and find solutions for new ones.

Our proprietary technology created over the past 30 years enables us to provide advanced designing.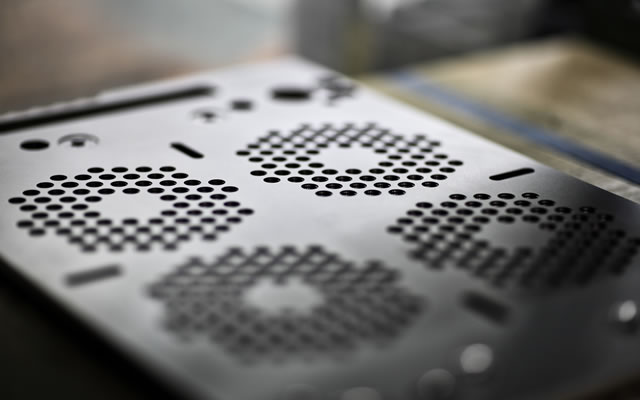 02

Commitment to mold materials

We examine the performance required of the mold according to the product to be molded such as rubber and plastic. We select the right material for the right purpose, considering durability, abrasion resistance, corrosion resistance and temperature distribution.

Furthermore, we develop and use our own customized materials for improving the mold and for the environment.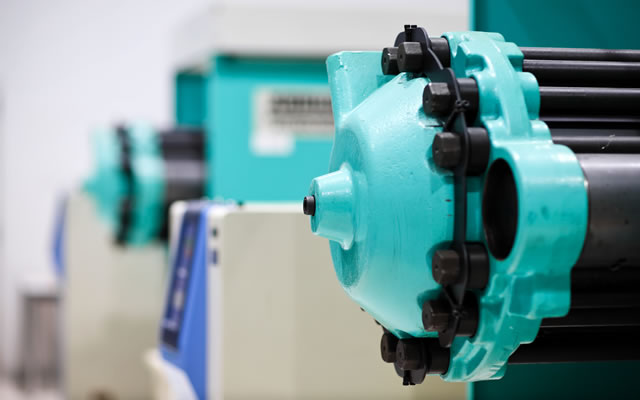 03

State-of-the-art equipment

We obtain state-of-the-art machine information both domestically and internationally and then present it to the worksites.

Our equipment enables submicron machining accuracy and realizes stable operation, enabling us to deliver products to customers that were previously impossible.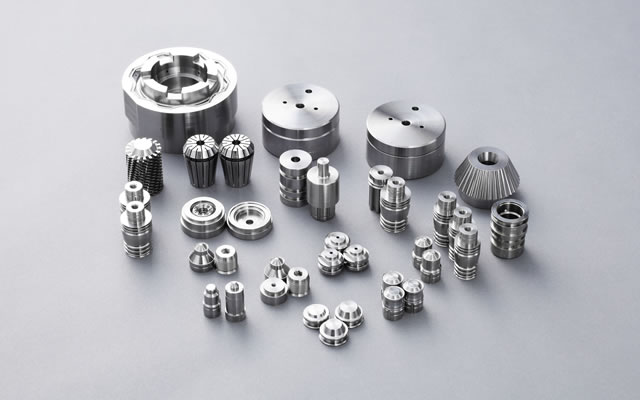 04

Machining technology

We pursue and develop machining methods that can always provide high precision and short delivery periods according to product shapes.

As a result, we produce molds that highly satisfy our customers.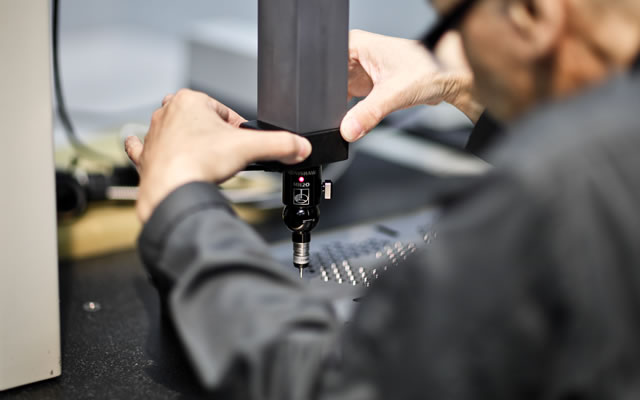 05

Quality control

We thoroughly manage the mold history and measurement data, enabling us to deliver molds that satisfy our customers.

In addition, we offer an in-house trial environment for LIM molds. Therefore, we can confirm that the molds are in good condition before delivering them.
06

In-house air conditioning

Machine tools are sensitive to temperature. The temperature of our factory is set at 24° C (±1° C) throughout the year to ensure mold accuracy.

Our proprietary air conditioning equipment saves energy and maintains mold accuracy and quality.
Features of PRC Technology
Burr-less molds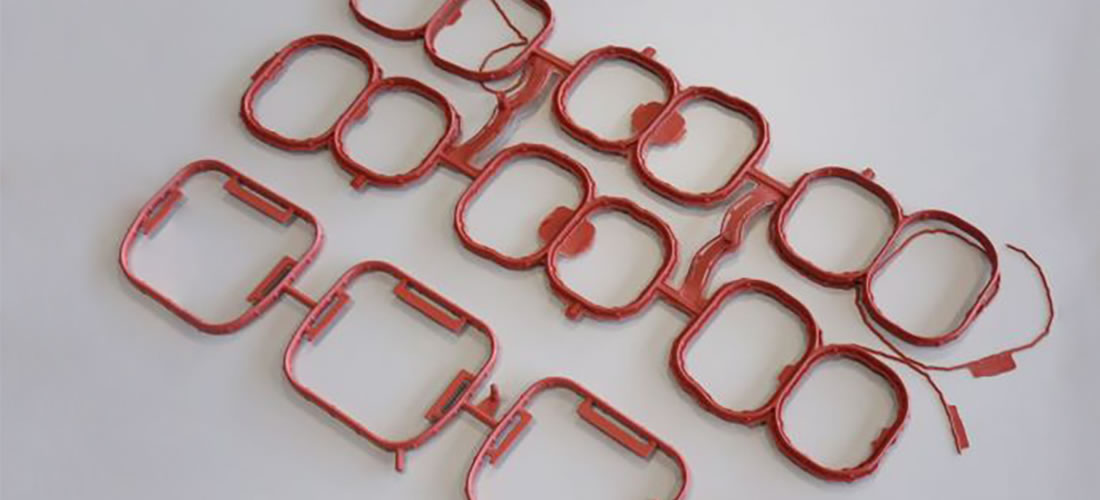 Burrs formed around and in the gaps of rubber products after molding were conventionally discarded as garbage because they could not be reused. We have been continuing R&D ever since our establishment, believing that this burr removal is great waste.
Our developed molds are runner-less. By reducing burrs to the utmost, we can minimize rubber material waste and greatly cut deburring work. We offer low costs and resource savings. Also, the introduction of an automated system has enabled a significant reduction in the molding cycle, improving the product yield to 98 percent.
Benefits from minimizing burr formation
Reduced unnecessary material costs
Reduced waste
Reduced labor costs for product finishing
Easy realization of full automation
These three reductions increase productivity and enable environmentally friendly manufacturing. Also, molding automation enables us to greatly reduce molding costs as well as providing a stable product supply.
Micromachining technology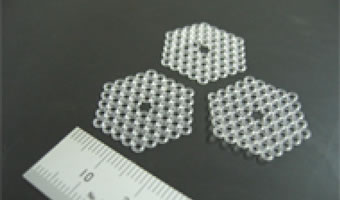 O-ring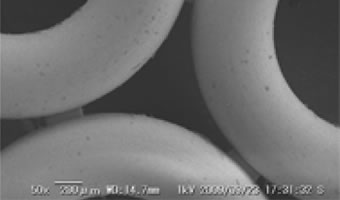 O-ring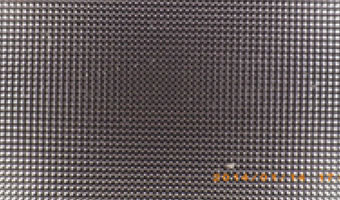 Lens
Based on our advanced machining technology and know-how, our molds also play an important role in the minute products used in cutting-edge medical instruments.
Micro O-ring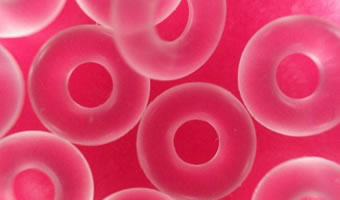 Inner diameter 50μ (micron), outer diameter 150μ
Micro O-rings were recognized as meeting JIS standards in 2018. They are expected to become more and more important in the future.
Mirror finishing technology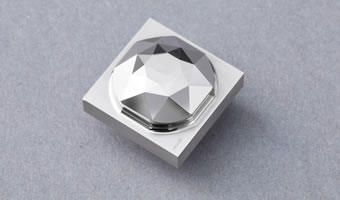 Performing mirror finishing manually requires time and leaves quality variations. Our machining technology and state-of-the-art machines enable unmanned Ra 15 nm mirror finishing by simply cutting. Complex shapes difficult to cut can be machined with a surface roughness of Ra 0.1μ.
Automated molding
We also manufacture customized demolding machines for automated molding.
Several control technology designers who can design software also address this work. Utilizing a wide range of knowledge and personnel, we support automatizing your factory.
Mold structure
Molding methods depend on the product shape and material. We specialize in LIM mainly using liquid silicone (LSR). We also handle other molding methods such as injection, transfer, compression and two-color molding as well as working with new molding methods.
What's LIM(LSR)?
LIM stands for liquid injection molding, which is a method for injection molding thermosetting liquid materials that have excellent properties. The most practical molding material among LIM is LSR (liquid silicone rubber)
What's LSR (Liquid Silicone Rubber)?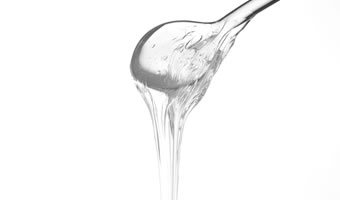 Silicone rubber is a thermosetting molding material offering excellent heat and cold resistance. The wide range of characteristics include flame retardancy, electrical insulation and conductivity depending on the compositions. LSR is used in fields such as electrical goods, medical instruments, automobile parts and childcare products.
Liquid silicone is generally an addition reaction type with two liquid components to shorten the curing reaction time.
Features of LIM
1

High productivity

Work process is shortened because liquid silicone rubber (LSR) cures three to eight times faster than ordinary millable rubber.
2

High workability

Since the material is supplied in drums or pail cans and the molding process is completely closed, contamination from foreign substances is normally not a problem. The quality is safe, and unmanned automatic molding production is possible.
3

Environmentally friendly

Burr-less and runner-less molding eliminates the need for scrap material disposal, enabling environmentally friendly manufacturing. The work environment is safe because no harmful gas is generated during crosslinking.
4

Molding automation

LIM is a method using an injection molding machine. Automatizing demolding enables automatic molding operations.
5

No need for secondary vulcanization treatment with low siloxane material

Low grade siloxane eliminates the secondary vulcanization for siloxane removal. The lead time for molding is shortened.
6

Easy coloring

Silicone rubber has good coloring properties. The rubber can be adjusted to various colors using silicone rubber pigments.
LIM system diagram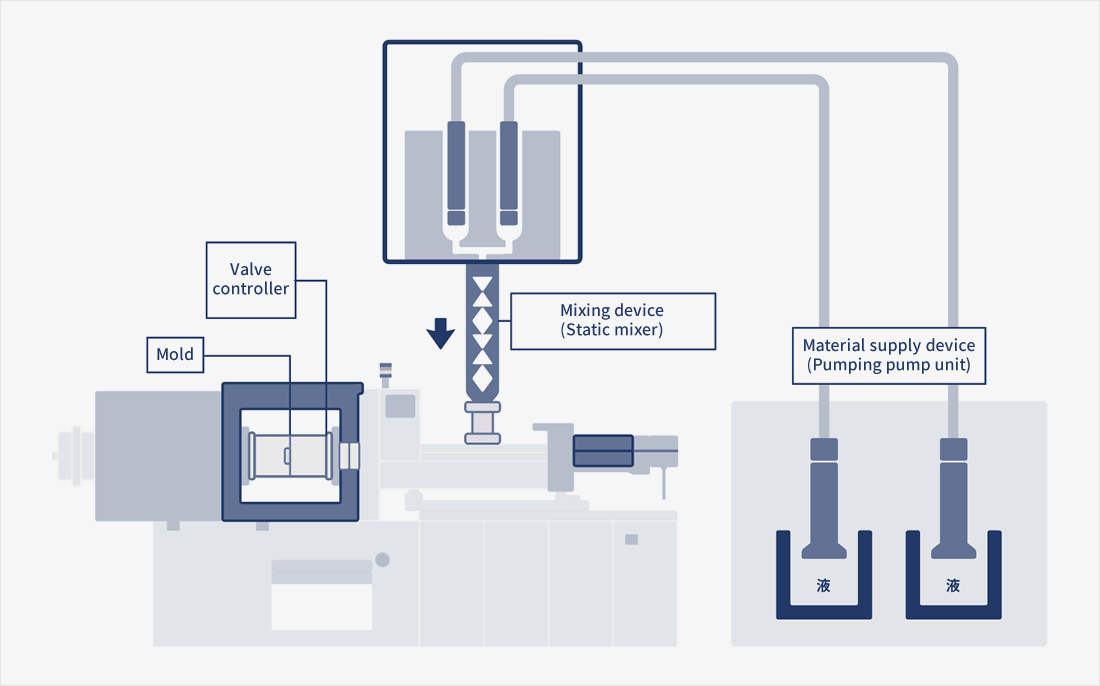 LIM molds of PRC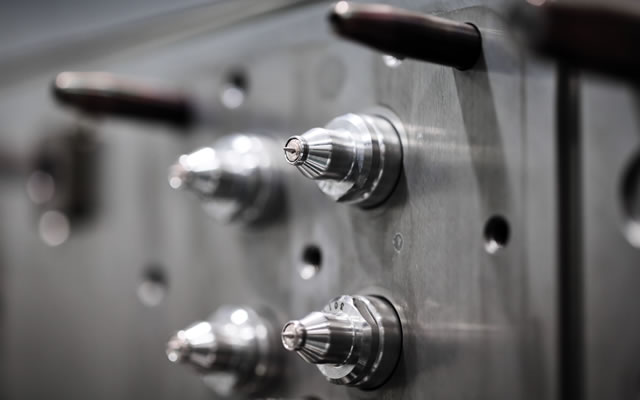 01

Insourced cold runner deck

A cold runner deck is equipped with our PRC customized shut-off nozzle system that emphasizes mold material and quality.

We provide molds that can be used stably for a long time.
02

Trial before delivery

Equipped with a machine for in-house trial before delivery, our customers can securely use our molds.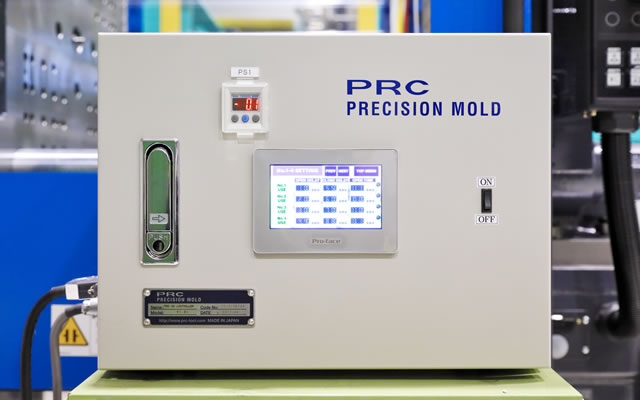 03

Shut-off valve controller

We independently developed a customized shut-off valve controller that offers high precision cavity balance.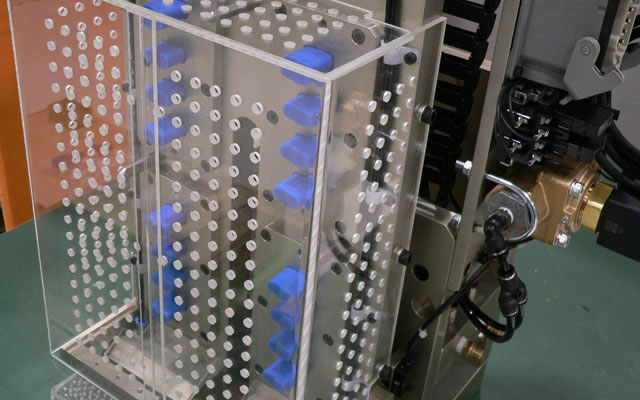 04

Insourced demolding equipment

Even if a mold is made, automation cannot be performed unless a system is built to automatically take out the products. We have several control technology designers who can also design software and we make customized demolding machines.

Utilizing our wide range of resources and personnel, we support molding automation for our customers from complex demolding to automatic inspection after demolding as well as packaging.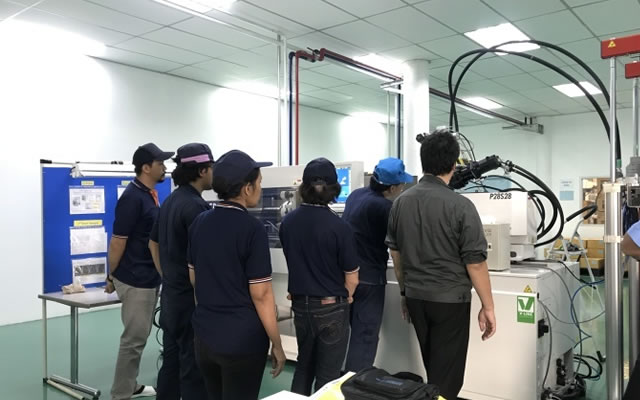 05

Attentive after-sales service

At the time of the first mold delivery, we hold a workshop for one day or more on mold maintenance, molding condition determination and more.

We also provide molding technology staff familiar with LIM to support your molding operations.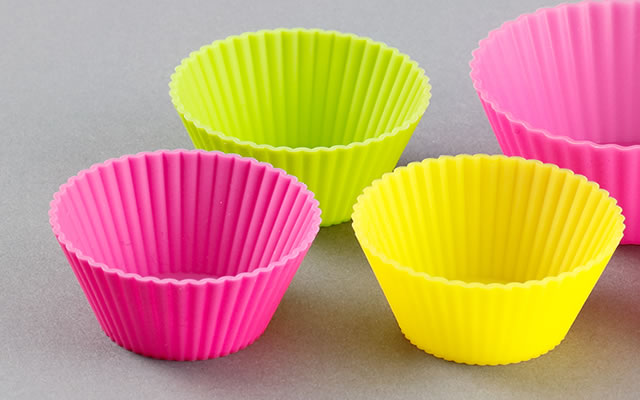 06

Burr-less molds

We offer a burr-less mold, using our proprietary know-how and machining technology. We provide customers with molds that do not require post-processing.
Small LIM mold
LIM has many advantages but people are apt to shy away because of the high initial cost, resistance to new molding technologies and heavy maintenance.
To eliminate these issues, we have developed a small LIM that can reduce the initial cost.

Using a rectangular mold with the area of one surface being 9 square centimeters, which is only about 10 kg and anyone can lift, along with our customized shut-off valve enables realizing burr-less molding at low cost. This is a great introduction for customers who would like to start liquid silicone molding and can enjoy all the benefits on a small scale.
Molding can be automated by constructing an automatic demolding robot.
PRIM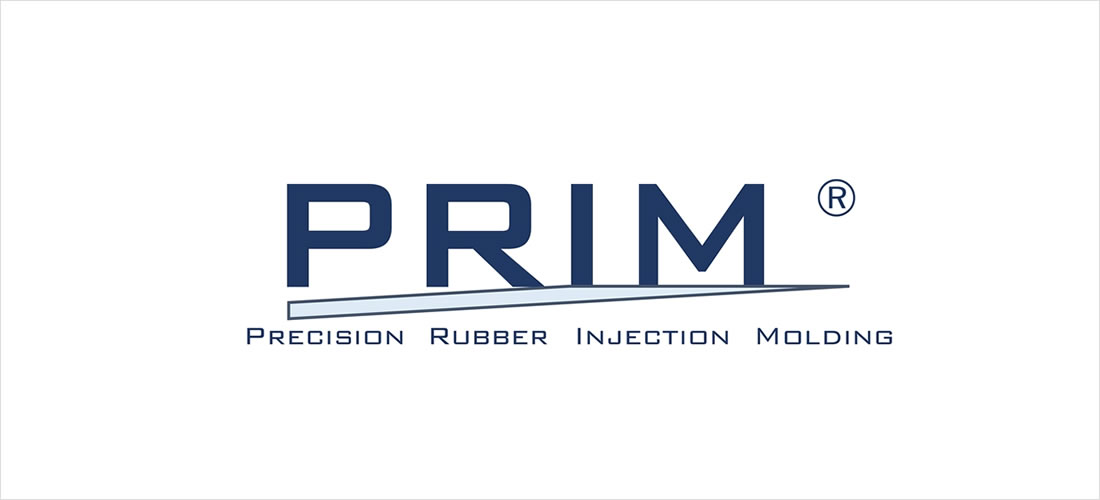 PRIM (Precision Rubber Injection Molding) is a new molding method using millable rubber (HCR) with our PRC shut-off valve.
Applying the molding technology cultivated in LIM, we created a mold with minimal burrs and overflows that can also be used for millable rubber. The term PRIM also means clean, neat and stylized, indicating molding with less burrs and overflows.
PRIM Advantages
A runner-less direct gate that creates neatly finished products is offered using our proprietary shut-off valve mechanism.
High-speed cycling is enabled in HCR by our proprietary structure that uses a more stable mold temperature and material shearing heat than compression and transfer molding.


Easy automatic molding with a traverse robot is possible.
The original material arranged by a client molding company can be used as is.
Sample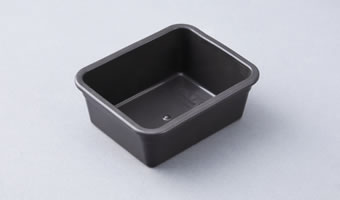 Material: FKM
Overflow: None
Gate: Direct gate
Glossary of LIM terms
To be posted as soon as it is ready.
Collection of LIM defect cases
To be posted as soon as it is ready.
List of equipment
| Name of machine | Amount possessed |
| --- | --- |
| Jig borer | 14 |
| Machining center | 7 |
| Super precision CNC profile surface grinder | 3 |
| Surface grinder | 4 |
| Electrical discharge machine | 5 |
| Wire electrical discharge machine | 4 |
| Complex machining equipment | 3 |
| CNC automatic lathe | 4 |
| NC high-speed slot machining equipment | 1 |
| General purpose machine | 5 |
| Profile grinder | 1 |
| Laser marker | 1 |
| 2D CAD/CAM system | 21 |
| 3D CAD/CAM system | 6 |
| Coordinate Measuring Machine | 3 |
| Digital microscope | 2 |
| Projector | 3 |
| Roughness tester | 1 |
| Hardness tester | 1 |
| Image measurer | 2 |
| Molding machine | 8 |
Message from the Representative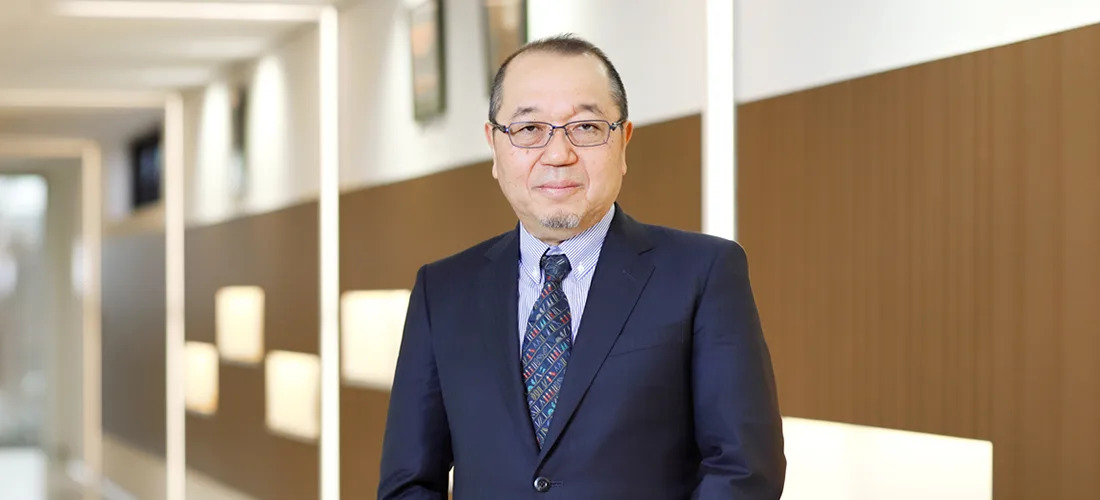 Meeting the submicron challenge
Making cutting-edge technology into a form with ultra-precision molds
We started our company to introduce injection molding technology created in Europe into manufacturing in Japan. With our ultra-precision molding method , we can eliminate waste in the production of liquid silicone and synthetic rubber products. We can also shorten the process and improve workability. The result is enabling fully automatic production. With this as our guide, we have focused on development, designing and manufacturing, specializing in injection molds.
We are particularly meticulous in ultra-precision molds for producing small parts. We focus on being one step ahead in all aspects, including mold materials, surface treatment, production equipment, design technology and know-how. We have established micron-level technologies that support everything from automobiles, medical instruments and sports equipment to weather satellites, and we have provided molds to approximately 200 companies in Japan and overseas.
Now, we are starting to rise to meet a new challenge. We are promoting the use of precision mold manufacturing technology, which we specialize in, to produce liquid silicone parts that are indispensable for the rapid development of electric vehicles worldwide. Furthermore, we are accelerating technological development toward the next stage, such as applying high-precision technology to materials other than rubber and developing molds with added functions. In order to implement our great dream of creating a smart manufacturing environment in Japan, PRC continues to work on the challenges that face us.
Makoto Ito
Chief Executive Director
PRC Co., Ltd.
Company Profile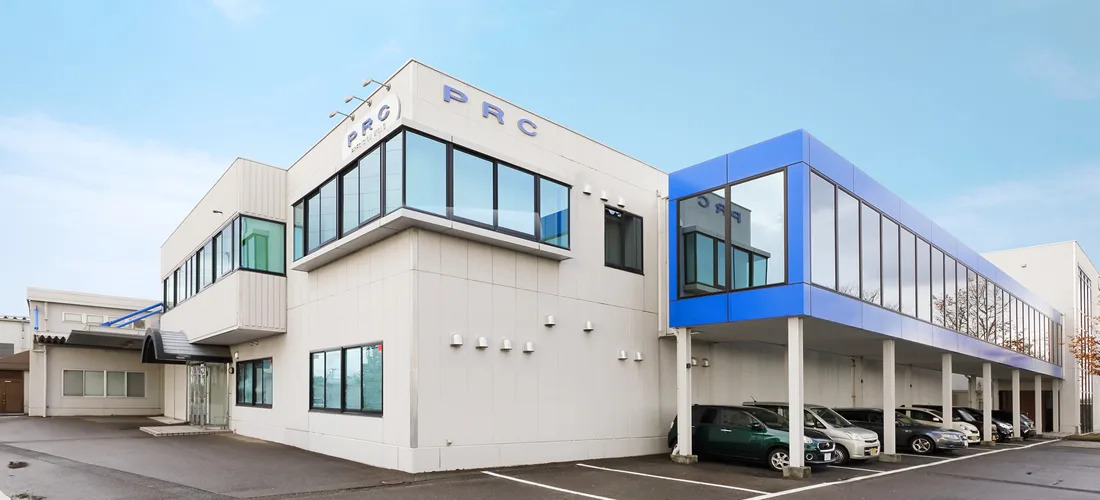 In order for manufacturers to produce better products stably under high efficiency using our molds, we work to further evolve our technology with the polished exploring spirit in Japan where the tradition of craftspersonship is alive and cherished.
Rubber and resin parts play an important role in our lives from automobiles, medical instruments and sports equipment to weather satellites. We, PRC, are the experts in injection molds, enhancing the accuracy and reliability of these parts to help make people's lives better and better.
Through the power generated from strong Person to Person (P) Reliance (R), we realize new Creations (C). We are Japanese artisans who master secrets and create a strong and precise outcome.
We take pride in our heritage, our company and our proprietary knowledge and technology. At PRC, we continue to pursue uncompromising quality and develop technology that enable creating even more advanced products. We use our excellent craftspersonship to contribute to the goals of our customers.
Company Profile
| | |
| --- | --- |
| Company name | PRC Co., Ltd. |
| Representative | Makoto Ito, Chief Executive Director |
| Capital | ¥40,000,000 |
| Establishment | October 1993 |
| Business | Designing, manufacturing and sale of liquid silicone and rubber molds |
Access Information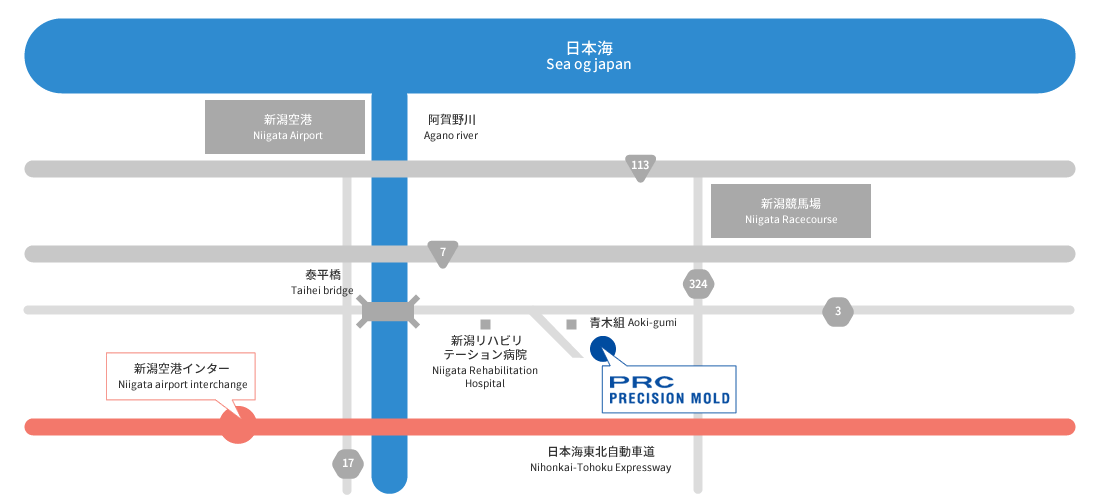 Address: 778-43 Kizaki, Kita Ward, Niigata City, Niigata Prefecture 950-3304
Phone: 025-386-1105
Fax: 025-386-1108
Google Map
By car
20 minutes from Niigata Station
15 minutes from Niigata Airport
By train
15 minute walk from Hayadori Station on the JR Hakushin Line
By bus
2 minute walk from Oyama Bus Stop on the Niigata Kizaki Shibata Line